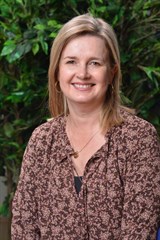 Mrs Julie Casey
Personal message: I believe in meeting the unique needs of all children, having high expectations of them, and positively impacting student learning within a faith-based environment. I believe in the provision of a dynamic, authentic and inclusive curriculum, that engages, supports and challenges all learners, nurturing creativity, curiosity and critical thinking. I believe this best occurs in partnership with parents, and will ensure all students are learners today and leaders tomorrow, able to demonstrate personal and social competence in our complex and changing society.
Statement of areas of responsibility: The assistant principal works strategically to support the principal and Parish priest in responding to the needs of the school community, within the areas of leadership, teaching and pastoral care. The assistant principal takes forward plans to achieve the educational and evangelical mission of the school, ensuring excellence in educational outcomes and learning success for all students.
Professional experience: With over 25 years teaching experience, across several schools in the Sydney Catholic School system, Julie has held a variety of roles including classroom teacher, EAL/D teacher and instructional coach (for the NSW State Literacy and Numeracy Program). She has held school and system leadership positions, in areas of curriculum such as English, Mathematics, Science and Technology, History and Geography.
Qualifications:
Diploma of Teaching (Primary) – Australian Catholic University
Bachelor of Education (Primary) – Macquarie University
Graduate Certificate in Teaching English to Students of Other Languages – Australian Catholic University
Master of Educational Leadership – Australian Catholic University
Gifted Education Online Course 1 – Sydney Catholic Schools
Professional interests:
Being a lifelong learner, reading voraciously and researching contemporary teaching and learning practices, with a particular interest and passion for literacy.