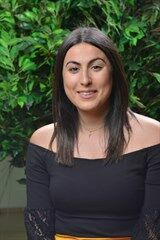 Mrs Luisa Gergis
Religious Education Coordinator
Teacher
Personal message: Personally, I share a strong commitment to my faith and towards the evangelising mission of the Church within schools. As an educator I strive to make a positive impact in the lives of students and endeavour to inspire students to develop a love of our faith, a love for each other and a lifelong love of learning. My main objective is to nurture and support the needs, gifts and talents of all students and provide opportunities for them to be valued, challenged and inspired. Students are our future and it is our role to empower students to be the best they can be and to equip them with the skills to successful both now and in the future.
Statement of areas of responsibility: My role requires me to work alongside the Parish priest and the principal in order to ensure that the St Mary's community has a strong commitment to the evangelising mission of the Church. I am responsible for nurturing and leading the faith formation and religious education of the students, teachers, parents and community. I am also responsible for the successful implementation of the Religious Education Syllabus and providing professional learning opportunities that assist teachers in developing quality teaching and learning pedagogy.
Professional experience: Luisa has been teaching at St Mary's Primary School since 2013. Prior to this she worked casually at a number of different Catholic schools.
Qualifications:
Bachelor of Education (Primary) – University of Notre Dame, Sydney
Completing Master of Liberal Arts (Theological/Leadership Studies) – University of Notre Dame
Kids Matter Course (Well-being facilitator) – Beyond Blue and the Australian Government
Gifted Education Online Course 1 – Sydney Catholic Schools
Professional interests: A strong passion towards the faith formation of students, teachers and the broader community and also for early learning and development, using contemporary and effective pedagogy.